Whether in a work environment or at home you want the best product for creating Documents, Presentations, Spreadsheets and Databases. Microsoft have held on to this market well with MS office but since they first started other competitors have appeared or have got serious and now there are many valid alternatives.
Office 2007 will be Microsoft's attempt at putting a distance between it and its competitors. When you thought things couldn't be easier to use and more accessible. When you thought that your Office suite couldn't look better you were wrong.
This will be the perfect companion to Windows Vista, and the Windows Live Products which will also have many improvements.
Lets get stuck in!
Firstly installation - This looks quite nice and more tidy. Not many things to comment on here, but i note how you can choose upgrade or customize your installation. You can even leave older versions of Office installed. The whole process is very straight forward as you can see in the screenshots.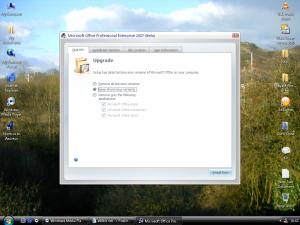 I had a shock when i first opened Microsoft Word. Immediately i was reminded of Vista when i saw an Orb in the top left corner, reminisent of the Vista Start menu Orb. When i clicked this orb i find that the File menu looks very much like a Start menu.
Performance wise i couldn't find fault with it and as i navigated around the layout that is very much the same as previous Office 2007 (formerly Office 12) builds. Very accessible! If i want something, i click and a whole category is there and i can see all the available functions. Note the zoom feature in the bottom right is still there and now almost like the Quick Launch on the taskbar, there is a similar thing above the Office Orb button.
On top of this there is a great menu for customizing MS word, including what format you save in.
Powerpoint has been given the same attention as Microsoft Word. Menu's are easy to use and to understand, all the main features that you are more likely to need are at hand. It has same options as you can get in Word, such as which format you save slideshows in. Backward compatibility will be very important to a lot of people. Things like animations and insert are now right where you can get them. If you highlight any of the animations you get a preview quickly below on the stage.
Same with Sounds and other extras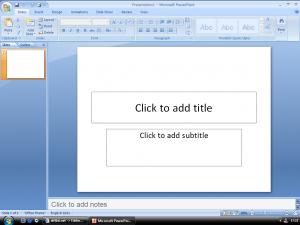 Excel is one of the big three. Word, Powerpoint, Excel are the main applications we all use. This too got the new layout and theme. Its important in spreadsheets to be able to complete tasks quickly, and users won't be disappointed with just how easy things have become. Note how formulas is right there to get to!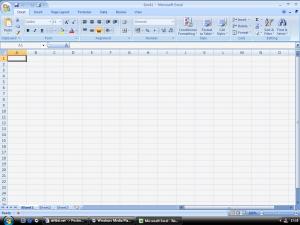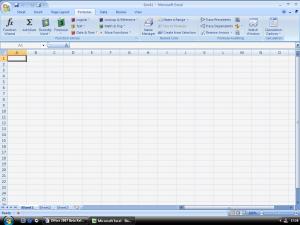 Publisher looks very much like Publisher 2003. But there is a cleaner look to it and a few alteration to the layout and neat little zoom effects. I get the feeling Microsoft may do more to this yet. Here is a screenshot of the 'Getting Started Screen'.
Infopath like publisher just looks cleaner, upon loading i am faced with welcome screen to choose what i want to do. This too may get a facelift.
Access is one of the more complicated apps. This has been completely overhauled, and matches Word, Powerpoint and Excel. Before doing anything an updated 'Getting Started with Microsoft Office Access' appears and you can completely customize everything you do. More power to the user, thats what we like to see!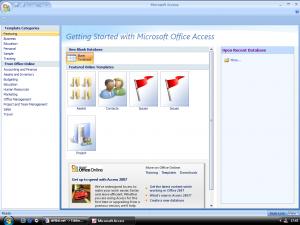 -----------------------
As i have mentioned, Performance, Accessibility and Power are the key things here and you certainly get them. I will go as far to say that this is the best Office suite i've ever used and already better than Office 2003. I don't know how near to release this is but MS could probably release this publicly and get a great response.
10 out of 10!
Requirements: 1 GHz CPU, 128MB Ram and 1GB of HDD space.
Its well worth it!
Also with Office comes Groove 2007, OneNote 2007, Project Professional 2007, SharePoint Designer 2007 and Visio Professional 2007.
-----------------------
If you enjoyed this review, why not look at some recent reviews here at x64bit.net?
A Quick Tour of Vista 5308
- The latest Vista build reviewed, includes screenshots -
Go!
Windows Live Messenger 8 Build 566 Review
- Latest Windows Live Messenger reviewed, also with screenshots -
Go!
Windows Live Mail Review
- The replacement of MSN Hotmail is coming...have you seen it yet? -
Go!
Recent Topics