For someone who has used various incarnations of (K)Ubuntu since 5.10. I was eager to try out both Ubuntu and Kubuntu 7.04 (AMD64 Edition). I must be honest I stopped using linux for a while, I ended up testing/using Microsoft Windows Vista.
Before I continue with my review, I must say that I do not favour Windows over Linux or vice-versa as I feel both systems have their pros and cons.
Since Kubuntu and Ubuntu are based on the same system. They are reviewed side by side and at time seen almost as one distro. With only difference being KDE used for Kubuntu and Gnome for Ubuntu.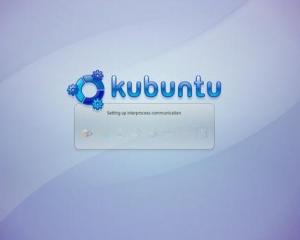 I first chose to run the system as a live cd. Much to my amazement almost everything seemed to work. Everything seemed to be very responsive, and without thinking about the most basic tasks. I decided to install it.
The stable release of KDE in Kubuntu 7.04 is version 3.5.6.
GCC 4.1.2
Glibc 2.5
Python 2.5
Linux 2.6.20
The stable release of Gnome in Ubuntu 7.04 is version 2.18
Installation took just under 20 minutes. After install one is greeted with the following desktop. (Left Kubuntu, right Ubuntu)
First thing I discovered was that I could not increase my screen resolution to beyond 800x640 (I presume this is because I was not using the official Nvidia Drivers.)
I then decided to try and use my modem. Unfortunately I knew before hand that this might be a problem since I have what is known as a Winmodem.
Extract from Kubuntu documentation
"Software modems, also known as Winmodems, are the type that are usually built into the system itself whether it is a desktop or a laptop. These modems are usually connected to a PCI port inside of the computer or a USB port outside of the computer. There are still quite a few of these types of modems that are not supported by Linux due to the type of binary driver or firmware they use. Winmodems supported in Linux are also known as Linmodems"
After trying many times and editing various files I could and still can not get this modem to work. Thus I was unable to go online, it could be said that Kubuntu without an internet connection can be a bit like a fancy type-writer.
The reason I say this is because that due to licencing issues neither Kubuntu or Ubuntu ship with propertary codecs this means basic support such as Mp3's, AAC, DVD's etc. Do not work. This can be fixed by downloading the required codec but it is a step I feel is unnecessary and impossible to do if your modem wont allow you to go online. Dealing with this frustration was one thing, as I love my music and have a large collection of mp3's.
I then decided to at least listen to audio using a cd (Kubuntu comes with Amarok 1.4.5, I must be honest if their was one program I really miss on the Windows platform it is Amarok)
Unlike in Windows where one can choose the systems speaker setup, this is a time consuming task in linux. I have 5.1 Surround Sound speaker system and without editing files and changing various settings (something a novice would struggle with) one is stuck with only the front to speakers working.
Adding software to Kubuntu is simple, just use the Adept Package manager (Synaptic in Ubuntu) and choose the software you wish to install. It should also be noted that in this release of (K)Ubuntu; the niverse and Multiverse repositories are enabled by default.
Pro's:
(K)Ubuntu is opensource software and is free. (Meaning you can distrubute it and make changes as long as you give credit to the original creator of the software)
When it comes to basic tasks it is reliativly user friendly. On my machine both Kubuntu and Ubuntu ran extremly fast when compared to how Microsoft Vista runs although it should be noted that by default and without 3rd pary software there are no fancy visual effects.
Being a linux system, the risk of malware, viruses, trojans etc, is less. Thus using a virus scanner is optional and not essentinal. Therefore less system resources are used in keeping the system safe and secure.
System requierments are not high and can easily run on hardware that is +-5 years old. (With the exception of unsupported hardware)
Con's
First thing in both distros but I feel is worse in Kubuntu. The over look of the distros has not changed much since 6.06 and tends to look outdated.
Hardware support is increasing daily but still certain basics are not covered. I know that Winmodems are a problem but having a system that can not connect to the internet is a huge down fall. In certain cases after spending hours looking for a solution it can be found. Although this tends to be impossible for some people. As one needs to be online to accomplish this (the irony.)
Codecs, now I must be honest that I really do not care that this can be sorted out by going online. It is ridicules that basic support such as mp3's is not supported out of the box. Giving credit where it is due the (K)Ubuntu has tried to make it simpler for one to just download the required codecs but it is still tricky.
Basic configuration such as setting ones speakers settings to 5.1 is a time consuming task and way above the head of a novice.
To be fair most of my critical comments; is a problem many linux distros have but considering the popularity of (K)Ubuntu project and the fact it has released quite a number of releases. These problems should be easier to sort out.
Conclusion
If (K)Ubuntu or perhaps even linux are to gain a larger market share, basic needs such as those addressed in my Cons need to be ironed out. In general if your hardware supports them them Kubuntu or Ubuntu are worthy distros that you should look at.