HD4850 VOLTMODDING

I was having some issues overcloking my HD 4850 through ATi Overdrive, so I decided to mod the BIOS to increase GPU Vcore. My card was fully stable under load until 655 MHz at stock 1.046v, but used to crash running FAH at higher clocks such as 700 MHz. If you don't intend to go beyond 720 MHz, a BIOS mod will do the job for you, otherways you will need a hard mod (pencil or soldering) to go beyond 1.4v.

There's a nice hard mod tut here:
http://www.techpowerup.com/articles/overcl...ng/voltmods/151
What I needed:
GPU-Z
(to save original BIOS to file)

http://www.techpower.../SysInfo/GPU-Z/
RBE
(Radeon BIOS Editor)

http://www.techpowerup.com/downloads/Utilities/RBE/

ATiFlash
(ATi DOS flashing tool)
WinFlash
(Use if you dare!)

http://www.techpowerup.com/downloads/Utili...S_Flashing/ATI/
RBE not only allows you to change clock and voltage settings but also allows you to config fan throttle settings. It also makes possible to config the various presets present in the BIOS with the desired values. I set UDV low, mid and high performance presets to 625/1.046v ; 665/1,150v and 720/1.250v repectively. After tweaking the BIOS I got GPU running under load at 720 MHz with zero problem, and temps are not that high. There's also a tool to increase Overdrive frequency limits.
After modding just save the new BIOS file (but just in case keep a copy of the original one) and flash the card BIOS. I used WinFlash and had no probs, but if you feel unlucky use ATiFlash.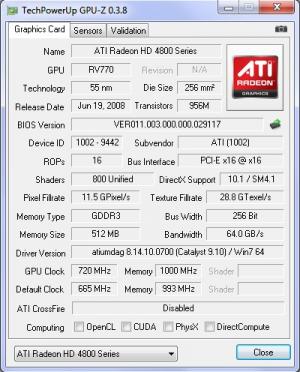 *
Note that standard clock is now 665 instead of 625 and current value is 720.

~edit~
>> Handy way to get more juice from a GPU.
... and don't forget