So you remember the whole Steve Ballmer egging incident, right? Of course you do, how could you forget?
Irked at the cost of Microsoft Office? Mad about Vista? Aren't we all.
Now you can get your revenge by throwing eggs at Steve Ballmer, yourself. We're sure Jerry Yang is already playing this one.
The concept is simple, throw eggs at Ballmer and get points. Most points makes you the most eggcellent egg tosser this side of Redmond.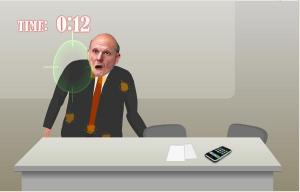 Waste Time Here