A mousemat is just a mousemat...isn't it ?
Not really - a good mat can make a huge difference irrespective if you are trying to design a house using CAD or fragging your friends. I've been a 'proper' mousemat user for several years but the time has come to retire my RatzPad GS. This has served me well but the surface has now worn away and as a result, doesn't work as well as it should. It's also wearing out my Teflon mouse feet much quicker than expected as well.
Decisions, decisions
So, what to go for?.. After a bit (i.e. a lot) of reading, I quite fancied the SteelSeries Steelpad range. I wanted a mat that was thin & comfortable. As I use this at my (flat) desk, I don't need a thick mat that compensates for the uneven surface and thinner means less wrist strain. So with that in mind, I bought a steelpad QcK (medium size). I bought from a UK retailer (CCLOnline) and the cost was a mere £6.52 (inc VAT). The mat specs are (in mm) 320x285x2 and the bottom has a non slip surface that is rock steady even on my smooth desk. The surface cloth doesn't feel as slippy as plastic but doesn't offer much resistance either. However, with a new set of teflon skates on, it's now offers practically no resistance and feels very comfortable.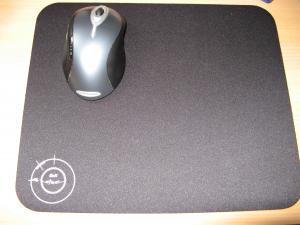 Quote
The QcK is what many gamers have been missing. A smooth, high quality cloth pad which offers soft feeling and control at the same time.
Usage
I work from home and rather than using my laptop keyboard / trackpad, I RDP onto it from my desktop. So I use my rig for 6hrs+ per day for work and then gaming as well. I found that during a gaming session with the RatzPad, my wrist would get sore but so far, I haven't experienced the same with the QcK. The non-slip bottom is just excellent - no slippage whatsoever. There are no garish colours / designs to distract you - just a simple steelseries logo.
Comments
I've been an advocate of using a properly designed mousemat for some years. Changing from the stiff plastic RatzPad to the thin & flexible steelpad took no effort whatsoever.
Pros
Thin; light; can be rolled up for transport (LAN parties); cheap; comfortable
Cons
Cloth surface catches anything that is not smooth (mouse feet, skin, etc); may be difficult to clean
Overall, I'm very happy with this product. It does exactly as it says and feels comfortable to use. Long term, I'll have to see if this is as practical as the RatzPad as when that got dirty, I washed it with soap & hot water - the same may be possible with the steelseries but only time will tell.
Regards
NC
PS - for UK readers, I bought my Teflon tape on eBay from a US seller ( douglasgenejohnson). Cost is £0.69 with approx £0.50 postage and if you buy more than one, you get 1 free. So for £3.20, I got 6 8.5" lengths of tape - enough for at least 12 sets of feet !