Enermax Uber Chakra
After picking up an
MSI 8800gtx
a couple weeks ago, I ran into the hard truth that it would never fit into the
Thermaltake Soprano
mid-tower that has housed my gaming rig for the last year or so. The card is just too long. So I had two choices: bite the bullet and go looking for a full tower, or dust off the dremel and cut out a section of the Soprano's 3.5" cage. Frankly, the latter sounded more appealing considering the cash I had dropped for the GTX. But I decided to at least give a look at some of the full-towers at my local shop. If I could find a decently-made full tower for < $150 bucks, it'd be worth considering anyway.
At first glance, the Enermax Uber Chakra looked pretty good. It wasn't full of corny gaming graphics or cheap plastic molds. (Alien skulls have their place but, imho, the front of a computer tower is not one of them.) The second thing that struck me was its size. At 550mm/21.5" long, 216mm/8.5" deep, and 552mm/21.5" tall, it really stood out. I had brought the measurements I needed to fit the GTX in order to measure the cases I was looking at but I could tell just by looking that this tower would fit anything I was gonna throw at it.
Before going any further, I called over a sales rep. to check the price. My initial guess was about $175 which would've put it just enough over my budget for me to keep looking. I was pleasantly surprised though when it turned out to be $99.00 plus tax.
The price sure was intriguing but what kind of features could I get for 100 bucks American on a full-tower? Usually, you really do get what you pay for and getting a cheap-o case for any price is just a waste of cash. So I took the display down and started looking inside to see where I was going to lose on quality. After just a few minutes though, I asked the sales rep. to start ringing me up. I was that impressed.
Getting it put together.
I never got a pic of the tower without my components in it so I'm borrowing this pic from
Newegg
:
Like a lot of towers these days, all internal and external drive bays are tool-less and utilize the plastic guides that snap on the sides of your drive/device. The guides that came with the Uber Chakra work well and securely hold everything in place. The internal 3.5" bay is side-loading and even further increases the amount of room inside for cards, coolers, etc. A tiny detail that Enermax uses on its external bays is another example of a good idea that may get overlooked by window shoppers: underneath each bay's plastic cover is a small bit of foam that acts as a dust blocker for those bays that aren't in use. While they all have the standard breakaway metal that has to be removed to add a device, the ones that you aren't using no longer act as dirt highways. Nice touch Enermax!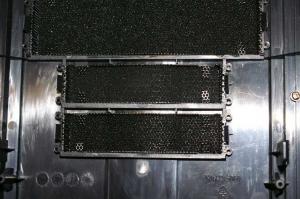 Besides the fact that the tower is all steel and aluminum (save for a bit of plastic molding and the plastic control panel) one of the most noteworthy features of this tower is the side-panel fan. A lot of cases have 90mm or 120mm fans on the side that can be used as intake or exhaust depending on how you install them. Some even come with ducts so that you can directly feed your cpu's heatsink or actively cool memory modules. Enermax has gone over the top with the Uber Chakra though. Check out the monstrous 25cm/9.8" side fan: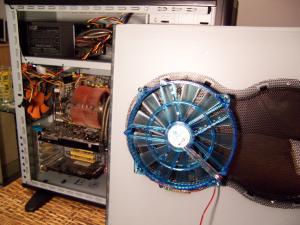 That's a big fan. As an intake, it is large enough to actively cool almost your entire mobo. As an exhaust, it virtually guarantees that no pockets of hot air will get trapped inside. So which to choose? In the past, I've used the same tack many of you have---monitor temps. with either a 90mm or 120mm side fan as intake, remove the fan and flip it around, then monitor the temps. as exhaust. But, yet again, Enermax has made things much more simple and have kept even this step tool-less: they've included a switch on the side panel that changes the fan's direction in real time. So you can run Orthos Prime and ATI tool for a bit to check your temps., flip the switch to change the direction of the fan, and see which one gives better cooling for your system. The other button you see on the left turns the blue LED on/off. Pic: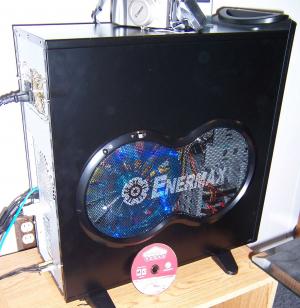 According to the Enermax site, the fan spins at 650rpm and cranks out 90cfm of airflow at 17dba. It's very quiet.
As I wrote earlier, there is a lot of room on the inside to move around. When the following pics were taken, I had yet to get to my ninja-wiring so please excuse a bit of clutter. (Wanted to make sure everything was up and running first.) As you can see, even the 8800gtx has room to spare. I also like the large holes that have been punched in the drive bays which I'd have to assume were done to keep the weight down. However, they serve double-duty as wire managers and are very, very smooth so there's no risk of cutting.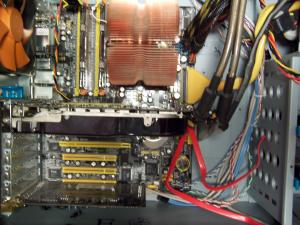 In the 2nd pic above, you can see where I used a tip from our own MO-man and had to cut some of the wrapping around my PSU's 6-pin connectors. This relates to my only gripe about the Uber Chakra----for such a large, roomy tower, it isn't as deep as it could be. Because the 8800gtx and Ultra cards use two 6-pin connectors that are on the side of the card, I had to cut the wraps on the PSU power cables in order to get the side panel back on. Since the wraps just held some capacitors and is more of an aesthetic concern, I don't consider the relative shallowness of the case a deal breaker.
Powering Up.
The control panel on this case is located at the top and faces upward. It's a clean layout and has two USB ports, mic and headphone ports, power and HDD led's, and a sata port.
With everything running, I got to work checking temps. For my machine, the side fan on exhaust provides the most cooling. Currently, my 8800gtx under load only hits 77-78C and idles about 66-67C. Not bad at all.
Having a SATA port built in on a tower is one of those things that I, personally, never considered but one that makes a lot of sense. A lot of aftermarket card readers have them built in but for those of us that don't have one, this is a nice feature. You can't see it from my picture, but there's also a bit behind the Cpanel that serves as a storage space for screws, change, twist ties, etc.

Conclusion.
Overall, I'd have to give this case a high mark. It is very sturdy and solid, it's very well laid-out, incredibly quiet, and Enermax has gone the extra-mile on a lot of the details. For all this at $99-$119 U.S., a better deal on a full tower would be hard to find.
Links:
Enermax
Newegg
MicroCenter
(<--Where I got it for $99)
Edited by banj0, 03 September 2007 - 07:01 AM.