X64bit Newsletter
November 2006 Volume: 2 Issue: 1


Welcome's

In the last few months we have seen an influx of new members and new staff members. We here at x64bit.net would like to welcome all of you, if anyone has a question do not be afraid to ask. Either one of the admins or mods or our valued members will help you.

Vista Build 5744

[attachment=2391:attachment]



All the info on the last planned release to the beta program prior to RTM. So if you missed that, find out all the info with many more screenshots HERE

How to build your own Conroe, by chriso_86

[attachment=2348:attachment]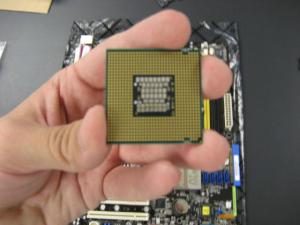 "I am building a brand new Conroe system to replace my Opteron. I plan on walking through all the basic steps needed to building your very own system for all you newbs that what to get into building your own computer! And for the rest of you guys that already and smarty pants just tag along and check out all the sweet pictures to come!!

First off I had to order parts!! This is probably one of the most important steps in building your computer!!! I usually start with the processor since everything has to be compatible with that!!"

Read the rest of the guide HERE

New Conroe system+ Radical Mod =, scaramonga


took delivery today of the following components:

1 x ASUS P5W DH Deluxe WiFi Board
1 x Intel Core 2 Duo E6600
1 x 2GB G.Skill DDR2 HZ PC2-6400 RAM
1 x OCZ GameXStream 700W PSU
1 x Seagate Barracuda 7200.10 SATA 2 16MB 320GB (Storage Drive)
1 x Sony Black Floppy Drive
1 x NEC AD-7173A DVD+-RW Burner
1 x Logitech Gaming Keyboard
1 x Logitech G7 Laser Cordless Mouse
1 x Coolermaster Stacker STC-T01 Server Case
1 x UV Lighting Kit
1 x Swiftech H20 APEX Ultra WC Kit



Well tonight I begin mounting the Rad.

I am having to mount externally now as the Rad is 1cm too large to fit in front along with other hardware ...yup....11 drive bays and I'm short by 1cm!! LOL

I have many hole-saws but not the size for this tubing so I had to order a 7/8 type and it has taken a week to get here .....arrived this morning....so after some delay I can now proceed.

Here are pics of the case.....I will be bringing the tubing in through the back just above where the 120 fan is situated.....so little room for error here.




Plus there is going to be, water cooling!!!

For the rest of the progress and an update. Read THIS



Vista Licensing Terms Changed Significantly


In a drastic turn around from it's earlier Vista licensing model releases, Microsoft has announced today that the licensing terms for Windows Vista have been significantly changed to allow for much easier licensing transfers.

"I'm very pleased to let you know you this morning (or afternoon, or evening, depending on where you are when you read this) that the Windows division has revised the retail license terms for Windows Vista in a significant way. Namely, the terms regarding license-to-device assignment of the retail product (including Home Basic, Home Premium, Business and Ultimate) now read as follows: You may uninstall the software and install it on another device for your use. You may not do so to share this license between devices.

Read the rest of the story HERE




Internet Explorer 7 has gone final. Personally I think its about time. We have waited a very long time for it. I use it on my system and I love it. More HERE

Firefox 2.0 FINAL Is out!


The latest version delivers easier navigation for everyone, including those who are visually or motor-impaired. Firefox is the first browser to support DHTML accessibility, which, when enabled by Web authors, allows rich Web applications to be read aloud. Users may navigate with keystrokes rather than mouse clicks, reducing the tabbing required to navigate documents such as spreadsheets.

Go HERE

Battlefield 2142 With a Dash of Spyware


When you open the box, a big slip of paper falls out first, preceeding any discs or manuals. The slip of paper says, essentially, that 2142 includes monitoring software which runs while your computer is online, and records "anonymous" information like your IP address, surfing habits (probably via cookie scans), and other "computing habits" in order to report this information back to ad companies and ad servers, which generates in-game ads.

More HERE

Windows Media Player 11 Released


Windows Media Player 11 is re-designed to support the URGE music store, Zune and provides better synchronisation for existing MP3 players. Both 32 bit and 64 bit versions

Download HERE

Simons new toy, Compaq Presario V5305WM Media Center Notebook

Microprocessor 2.00 GHz Mobile AMD Sempron™ Processor 3300+ Microprocessor Cache 128KB L2 CacheMemory
512MB 333MHz DDR Memory Max 2048MB
Video Graphics ATI RADEON XPRESS 200M IGP Video Memory 128MB DDR
(shared)Hard Drive 60GB 5400RPM
Multimedia Drive 24X DVD/CD-RW Combo Drive
Display 15.4" WXGA High-Definition BrightView Widescreen (1280 x 800) Display
Fax/Modem High speed 56k modemNetwork Card I
ntegrated 10/100BASE-T Ethernet LAN (RJ-45 connector)
Wireless Connectivity 54g™ 802.11b/g WLAN with 125HSM / SpeedBooster support
Sound Altec Lansing
Keyboard 101-key compatible
Pointing Device Touch Pad with dedicated vertical and horizontal Scroll Up/Down pad
PC Card Slots

Congrats man, hope you have lots of fun with it

More info on his new toy HERE

Linoman's new toy


Now I am sure most of you know about my new PC,, but sorry incase you dont. I have to brag aswell; I love Windows XP x64 Edition

Processor: AMD® BOXED ATHLON™64 X2 3800+ PROCESSOR - 2.0GHZ DUAL CORE SOCKET AM2 2X512K 2000MHZ HT 90NM AMD64
Motherboard: GIGABYTE® "S SERIES" NVIDIA NFORCE 430 CHIPSET - FOR AMD K8 PROCESSORS @ 1000MHZ HT - INTEGRATED MAINBOARD - SOCKET AM2 ONLY
4X DDR2-800 (DUAL CHANNEL),
4X SATA2 + 2X ATA133, NVRAID, 2X PCI, 1X PCI-EXPRESS 1X, 8 X USB 2.0 (4 BY CABLE), IEEE1394, FULL ATX
FEATURES 1X PCI EXPRESS X16 SLOT, REALTEK 8CH HIGH DEFINITION AUDIO, NVIDIA INTEGRATED LAN, MICROATX, FEATURES SAFE & SMART TECHNOLOGY
Graphics Card: GEFORCE 6100 VGA, 512MB (its onboard but it should run well)
RAM: Times 2" TRANSCEND® JETRAM™ HIGH-PERFORMANCE 512MB DDR2-533 240-PIN MODULE : CL4, 4-LAYER PC BOARD (Aka in total 1GB Or Ram)
Box: GIGABYTE® CHASSIS - ATX TOWER 4-IN-1 SOLUTIONS : BLACK/SILVER DUAL TONE CHASSIS, KEYBOARD, MOUSE WITH 400W 24-PIN PSU
DVDRW: LITEON® SHORT HALF-HEIGHT DVD MULTI-WRITER + LIGHTSCRIBE, 16X+R/-R, 8X +R/4X -R DL, 8X +RW, 6X -RW, 5X -RAM, 16X DVD, 48XCDR, 24X RW
Harddrive: SEAGATE® BARRACUDA™ 7200.10 SERIES - 250GB SERIAL ATA II (SATA2) PLUS - SERIAL ATA 300 (3GBPS) WITH 16MB CACHE @ 7200RPM
Soundcard: CREATIVE® SOUND BLASTER AUDIGY VALUE PCI SOUND CARD - 6 CHANNEL SURROUND SOUND SUPPORT - EAX SUPPORT
Modem: CNET® 56K V.92 INTERNAL PCI BUS SOFTWARE MODEM WITH CONEXANT CHIPSET
Keyboard and Mouse LOGITECH® OEM SERIES - INTERNET PRO BLACK PS2

Birthdays


Hey Happy Birthday/Be-lated birthday to all of you

Simon- Oct 3
RJ- Oct 5
Dave- Oct 27
atsaunier- 4 Nov
Sphere- 6 Nov
If I have missed anyones birthday, I am sorry

Goodbye theman



"I am going on a mission for my church for 2 years. I leave on November 1st, so this is the last day I have here in California. I'm going to Little Rock, Arkansas and the states surrounding it. I'm very excited for this mission but I will miss x64bit, as it is the only forum i regularly visit. I cannot use computers on the mission except for exclusively writing email to family. I'm sure it's going to be really interesting when I come back..just imagining the pages of "view new posts" will be, lol." Rest

Theman thank you for everything and good luck with your mission. You will truly be missed.

Interesting board discussions


What freeware do you use? Link!

Posters for the day? Link!

Choice of gifts? Link!

Is your PC a 64 bit machine? Link!

Are you an AMD or INTEL user? Link!

Whats the worset OS you have ever tried? Link!

What OS will you be using in 2007? Link!

Discuss the Geforce 8800 ( I want one if those) Link!

What will the new Geforce 8800 look like? scaramonga might have the answer



Special thanks to Nvyseal and Sphere, for your suggestions on improving this newsletter.


Thats all for this month, expect our Christmas edition coming soon.

From x64bit.net staff
Until next time take care
© 2006 X64bit.net
All Rights Reserved
Editor Linoman